Guides at Skiers Lodge La Grave 2013-2014.
Our Guides hold the highest internationally recognised qualification for instruction and guiding in rock and ice climbing, mountaineering and off-piste skiing and ski touring- the coveted IFMGA carnet. This badge, recognised throughout the mountaineering world is your guarantee of their professional training and competence in all aspects of (IFMGA ), followed, along with increased training and rigorous assessment.
This membership, shared at present with guides from sixteen other countries, gives all the Guides at Skiers Lodge absolute equivalence with Guides in Alpine countries and throughout the world. The award of the International Guides Carnet demands the highest standards of skill and professionalism in all aspects of mountaneering. All our Guides are qualified IFMGA/UIAGM (International High Mountain Guides).
They speak English, French, Swedish and German.
Swedish Mountain Guides, France Syndicat National des Guides de France, American Mountain Guide Association, Germany Verband Deutscher Berg- und Skiführer, British Association of Mountain Guides.
Pelle Onol Lång (Sweden)
UIAGM/IFMGA Licensed Guide
Wherever Pelle Lang has put his ski-boots down has been his home. Leaving Sweden some three decades ago searching for good adventure skiing in the mountain ranges in the world the "search" is over. Being the owner and founder of the Skier Lodge made him settle down in La Grave. His dream was to create a lodge owned and operated by skiers for skiers. In 1989 this dream becomes a reality. The Skiers Lodge Guide Service, for which Pelle works daily as the chief guide, represents the ski part of the concept.
Eric Mossiere (France)
UIAGM/IFMGA Licensed Guide
Eric Mossiere was born and raised in Grenoble close to the Alpes and the massif de Vercors. He likes both the city life and the mountains and finds living in a small village near the town of Briancon optimal since he can not forget his city habits living closer to civilisation than La Grave. He got great knowledge of the secret skiing spots in Serre Chevalier and Montgenevre area and calls the Lodge early every morning to tell about the snow conditions on his way drive towards La Grave.
Cyril Dupeyre (France)
UIAGM/IFMGA Licensed Guide
Cyril live in La Grave and is a fully qualified High Mountain Guide and a member of the guide syndicate of La Grave. He started as a climber and became a member of the French young alpinist national team in 2008-2009. After a lot of hard climbing in the Alps, Norway, Maroco, Bolivia, Peru, Patagonia, Slovenia and USA. He received the Diplome de Guide de Haute Montagne UIAGM. He arrived in La Grave 5 years ago and he never looked back, he spent many ski days so he know the place very well!
Rasmus Krogerus (Finland)
UIAGM/IFMGA Licensed Guide
Rasmus has always liked the nature and outdoor life. He studied to be a wilderness guide and is a UIAGM certified mountain guide. Cross-country skiing was always a big interest in his family and he started out in the sled being pulled by his mother before he got his own skis at the age of two. As a teenager he started snowboarding and soon found Finland with its highest point 1323 meters too flat. He started doing regular trips to the alps and northern Norway.
Joe "PRO" Vallone (US)
UIAGM/IFMGA Licensed Guide
Joe "PRO" Vallone is a fully certified American UIAGM/IFMGA Licensed Guide The phrase "in the moment" could have been invented for Joe. Colourful, focused and energetic, Joe's qualities shine through in both his personal interactions as well as his accomplishments: He's an IFMGA internationally certified guide, a professional drummer and a professional free-skier. Joe possesses a unique ability to instantly shift his undivided attention to the task at hand. Joe graduated from Colorado State University with a BA in Music.
Thomas Vialletet (France)
UIAGM/IFMGA Licensed Guide
Thomas was born in the Hautes-Alpes and always lived in the Southern French Alps. He started climbing and skiing when he was a young teenager and his passion quickly became a way of life. He spent all his time skiing, climbing and mountaineering and explore the Alps and some parts of the world ( USA, Alaska, Australia, Morocco, China, Europe… ) to live and share his passion. He became a member of the French young alpinist national team in 2009-2012. He lives now in Briançon and guiding in Ecrins massif all year.
Timothy Connelly (UK/USA)
UIAGM/IFMGA Licensed Guide
Tim has been around the world block a few times and with his 13 years of mountain guiding he has found himself helping people full-fill their dreams from Alaska to Patagonia, from the Himalaya to the Alps to Antarctica with many a stop in between. Fully licensed UIAGM and the 2006 recipient of the American Mountain Guide Association (AMGA) 'Outstanding Guide of the Year' award as well as numerous honours from Denali National park in Alaska for services beyond need for help with search and rescue operations have shown that Tim…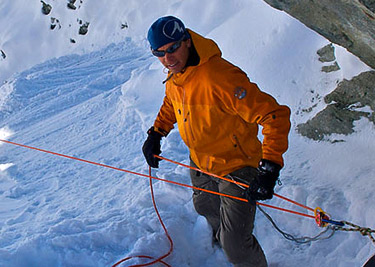 Keith Garvey (US)
UIAGM/IFMGA Licensed Guide
Keith Garvey now enjoys wearing ski boots as much if not more than his surfing boots, even after 16 year of snowboarding. "If it wasn't for the snowboard, skiing would still be a stale, straight and narrow sport." Some fat skis and a little shape is what brought him back and now he claims it to be his favourite sport. He spent the last three seasons skiing and guiding in Valdez, Alaska, and in the lower 48. Keith began guiding nine years ago in the U.S. working for the Colorado Mountain School.
Martin Svensson (Sweden)
UIAGM/IFMGA Licensed Guide
Martin Svensson is a fully certified mountain guide from Sweden with a dedicated passion for mountain sports. Possessing a quiver of mountain skills, including big-mountain skier, alpinism, big wall and sport climber. Martin says: "It is great to be able to practise and try to perfect different disciplines in a changeable mountain environment. It keeps "the flame burning". Martin started skiing in 1976 in the Telemark region of Norway, neighbouring a small village called Rjukan where modern telemark skiing was born.
Tyler Jones
UIAGM/IFMGA Licensed Guide
Tyler grew up in the mountains of Idaho in the United States, where he knew at a young age that climbing and guiding would be life for him. Since then, Tyler has achieved his full guide certification in the disciplines of Ski, Rock, and Alpine. This currently makes him the youngest American internationally recognized as UIAGM/IFMGA licensed guide through the American Mountain Guides Association. Tyler has been on thirteen expeditions to the Alaska Range, including solo trips, several notable ski descents, and an ascent of the Cassin Ridge.
Andreas Bengtsson (Sweden)
UIAGM/IFMGA Licensed Guide
Born in Sweden in 1974 and hade his first skiing experience some 5 years later. Andreas is a Certified UIAGM Mountain Guide and UIAA Climbing Instructor but also a product developer with a patent on his merit list. Loves skiing and climbing and has spent a lot of time exploring different ski resorts in the alps and ski touring in the wilderness of the Scandinavian mountains. "The first time a came to la grave my mind went "Wow, I want to ski this". Now after several years as one of the mountain guides at Skiers Lodge I still get that wow feeling every time I arrive in La Grave.
Julien Marie (France)
UIAGM/IFMGA Licensed Guide
Julien Marie was raised and born near the sunny region of Marseille. As a teenager his passion for the mountains grew so he settled down in the mountain range of the Pyrénées very close to Andorra. He quickly became fascinated of cross country skiing, ski touring, alpine and freestyle skiing that finally lead of many years in competition as a member of Rossignol Freestyle Team. After years of improving his ski technics he passed his ski instructor diploma and worked in Montgenevre France. He is a member of the local alpinist team and a sport teacher.
Josef Westerlund (Finland)
UIAGM/IFMGA Licensed Guide
The mountains are Josef´s everyday office. Surrounded by nature, with senses heightened, he feels alive. Josef has been working with outdoor activities since 1999. He is an Authorised Mountain Guide (UIAGM) and guide throughout the Alps and Northern Scandinavia. His home base is in Pietarsaari, Finland, where his wife and two daughters live. Josef is one of the instructors at the Outdoor Academy, a two year occupational education within outdoor pursuits and leadership. He has also worked seasonally as an instructor for the National Outdoor Leadership School (NOLS) in both the USA and Mexico.
Jurgen Kreiger (Germany)
UIAGM/IFMGA Licensed Guide
Jurgen Kreiger was born 1966 in Freiburg, Germany and started skiing at the age of three together with his parents in the Ausrian Alps and skiiing became a big part of his life. It would lead him to ski most of the parts of the Alpes and great adventure skiing from the top of Mount McKinley/Denali in Alaska. He became a fully certified guide 1997 and the same year started his own guide service PICOS together with Alois Vienhöve and Philip Jaersky brought them to La Grave – La Meije.
Alois Viehöver
UIAGM/IFMGA Licensed Guide
I was was born 1964 quiet far away from the Alps. Starting skiing rather late with 11 it neverless became my favourite way of moving around the mountains. His first job as a chef gave me the oppurtunity to spend many seasons in the best ski resorts around. Skiing hard the day – fine meals at the evening. This is still the strong connection and motto with and for the skiers Lodge where i started guiding in 1997. This is same year where I finished my guide exam, from there on I started my own guide Service PICOS Berge und Mehr with my partner Jürgen Krieger. In these day´s I still love to ride La Grave and the surronding mountain chain as well as special trips like sking and sailing in Isand
Tom Merkel (Germany)
UIAGM Licensed Guide
Tom has been skiing La Grave since 2001 and has worked regularly for Skiers Lodge ever since. He is one of the fortunate few who turned their passion into a profession; Tom did it even twice during his prolific career: first as professional Ice Hockey player and later as professional Mountain Guide. Today he is exploring the mountains of the world on trail, rock, snow & ice. You will often find him mountaineering and skiing at ultra-high altitudes, e.g. on the Shisha Pangma (8027m) or the Muztagh Ata (7546m).